Catherine and Zac in RoseyRavelston bookshop (Mtns Eco)
By Belle Butler
There is something delightful about opening up a used book. The dog-eared folds of interrupted chapters, the smudges of thumbed pages, the rushed scribbles of another reader's thoughts. All of these markings and imperfections suggest that the solitary experience you are about to embark on is in fact not so solitary.
Catherine and Zac of RoseyRavelston bookshop, Hazelbrook, boast a high level of quality control for their large second-hand book selection. They check every book that arrives at their shop for rips, tears, stains or smudges. But, even the best preserved books contain more than just the words within. Catherine and Zac have had the pleasure of discovering a motley collection of 'lost bookmarks' – train tickets, recipes, postcards, exercise regimes, original artworks, even a tattered article on the death of Albert Einstein. These forgotten treasures now make up a weird and wonderful display that decorates RoseyRavelston's walls.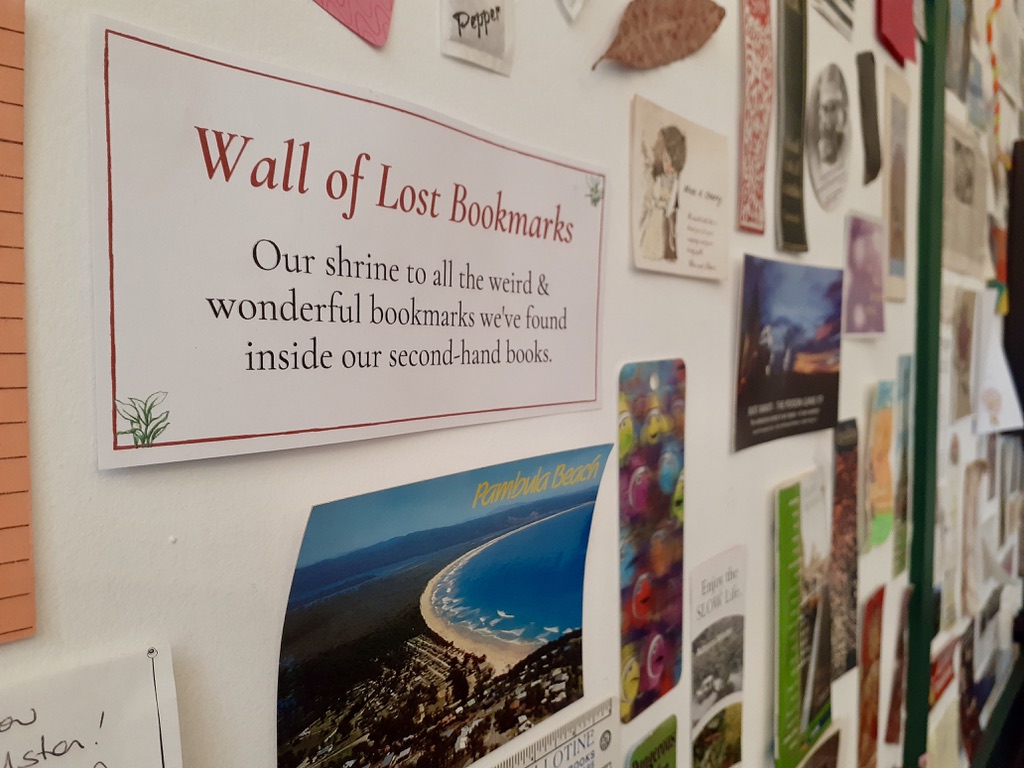 The Wall of Lost Bookmarks (Belle Butler)
It is quirky and entertaining, but also a compelling symbol of a functioning circular economy in a time of unprecedented waste, when the publishing industry maintains unsustainable practices such as using unethically produced and unsustainably sourced materials. Pre-loved books perform a round-about of consumption at RoseyRavelston, leaving little waste in their wake. Catherine and Zac distribute books they can't stock to street libraries or pass them on via large give-away events on their front lawn.
A vibrant community space accessible to all (Belle Butler)
The 'shrine of lost bookmarks' is also an appropriate visual nod to their efforts to create both a sustainably sourced shop – almost everything in RoseyRavelston is second-hand – and a vibrant community space accessible to all.
Community is a driving force for Catherine and Zac. After visiting Alternatives Bookshop in Bellingen they were impressed by the owner's community engagement and activism. It inspired them to create something similar for Blue Mountains residents. "We wanted to provide a space for the community, with second-hand books that are affordable for everyone, and free, locally held events," said Zac.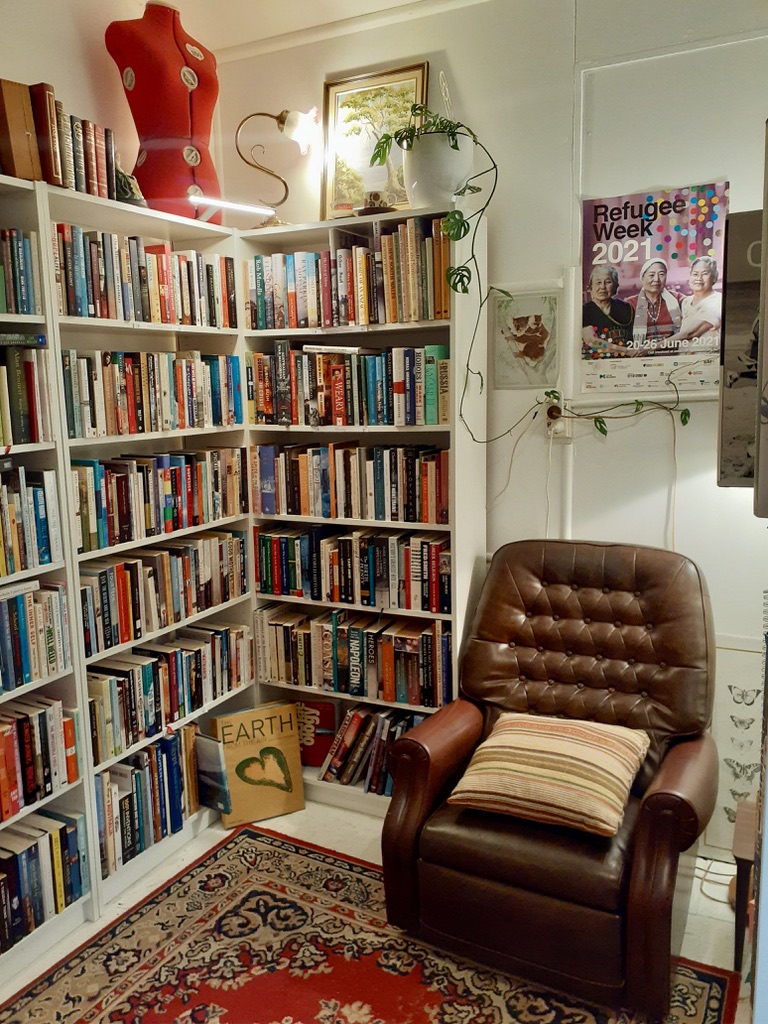 Interior with Refugee Week poster (Belle Butler)
However, the biggest inspiration for this enterprise was their mutual commitment to advocating for refugees. As a social worker in 2012, Catherine went to the detention centres on Nauru and Manus Island to work with refugees. Later that year Zac joined her at Manus Island to run a coffee training school, intending to provide future employment options for asylum seekers. They were confronted by the treatment of refugees in these centres. "The conditions we witnessed were appalling," said Catherine. "And it changed our lives."
After their time at Nauru and Manus Island, Catherine and Zac became passionate advocates for the rights of refugees. Deciding to dedicate much of their energy to this cause they embarked on this social enterprise, giving 50% of profits from the shop to charities that support refugees and asylum seekers. Their chosen charities are Blue Mountains Refugee Support Group and Amiculus: The Humble Friend Project.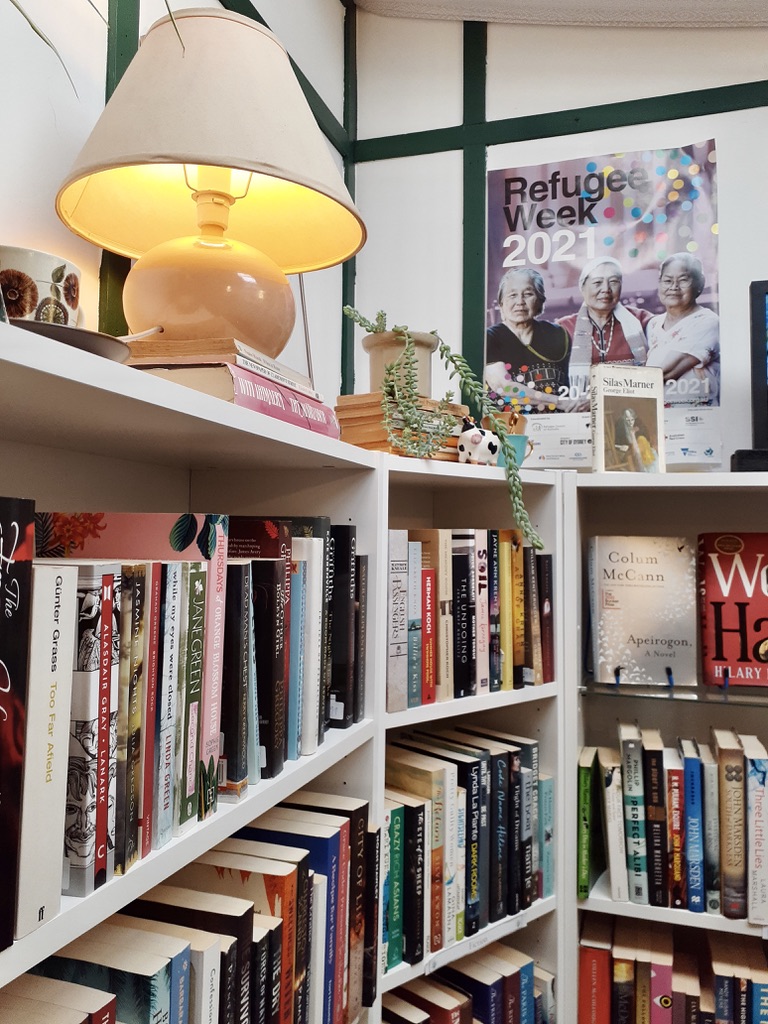 Their commitment to refugee support, combined with their common love of books and their mind for sustainability, laid the groundwork for RoseyRavelston. They opened online in 2020 and moved it into the physical space in 2021. It is a passion project on all fronts. "It's a new business we are passionate about combined with a cause we are passionate about, so the risk feels greater," said Zac, conscious of not wanting to let people down. It's a challenging industry with plenty of competition and, as a social enterprise they sit somewhere between a 'not for profit' organisation and a 'for profit' business. That means they can't access grants available to 'not for profits', and they miss out on the full financial earnings of a regular business.
Despite these challenges Catherine and Zac are fully dedicated to this enterprise. They regard refugee support as an essential action for the well-being of the planet.
Catherine and Zac regard the Blue Mountains as the perfect place for their enterprise, citing the community-focused, progressive, open-minded, and sustainability-conscious people that live here as a draw-card for them and their business. They believe that the community has afforded back to them what they have put in. "I feel like we are offering something of value to the community, and it's been embraced, and we've been embraced because of that," said Zac.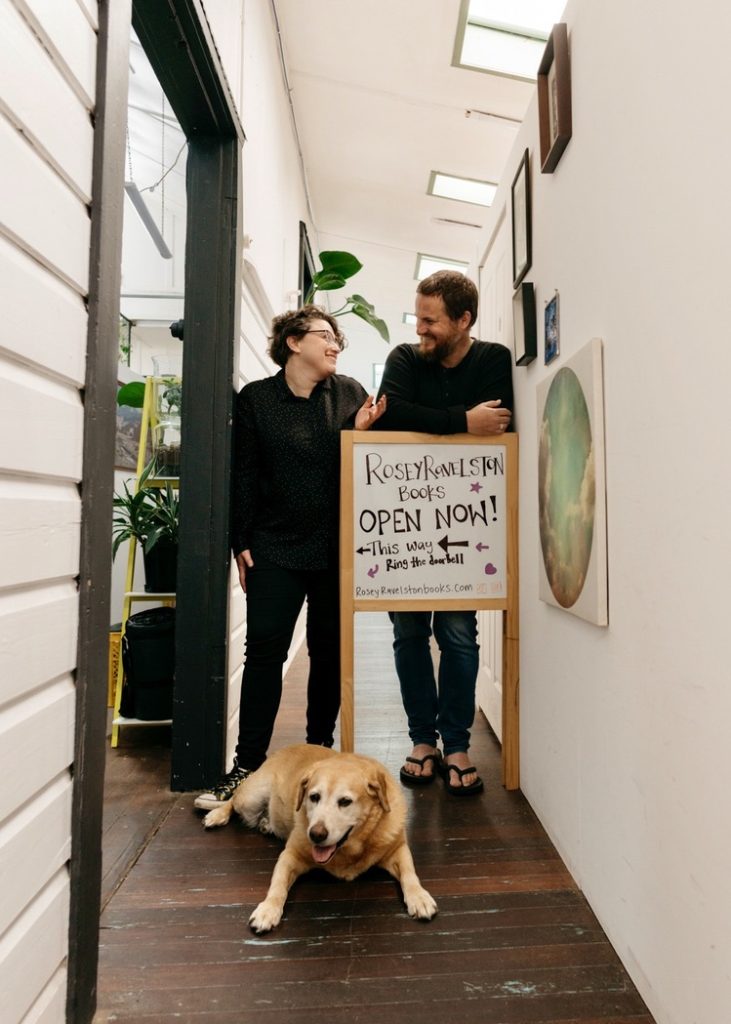 Catherine and Zac in Nauti Studios (Mtns Eco)
A sustainable, community-strengthening, socially-minded enterprise RoseyRavelston is situated in Nauti Studios, which in itself is a workspace co-operative that was built out of sustainable and repurposed materials. The bookshop hosts free events such as author talks and book clubs, and organises local fundraising events for refugee charities. It also offers a unique package – A Bookshop of One's Own – the experience of hanging out in the bookshop alone or with up to 3 friends while enjoying a platter from Lawson co op Lyttleton Stores, non-alcoholic apple cider from Bilpin's Hillbilly Cider, and chocolate from Lawson's Meltdown Artisan.
For the second year running RoseyRavelston will be running a competition and printed anthology of creative writing and artworks/photography on the theme of 'Regenesis', with this year's call out focused on 'water in the Blue Mountains'. Submissions are open until the 31 May. The anthology will be launched at the Winter Magic Festival 2023.
If you wish to find out more about the charities RoseyRavelston donates to, you can visit their websites here: Blue Mountains Refugee Support Group & Amiculus: The Humble Friend Project.
RoseyRavelston is open Thursday to Sunday 10am-4pm.
You can find RoseyRavelston here and on the Blue Mountains Bookshop Trail: https://www.facebook.com/bluemountainsbookshoptrail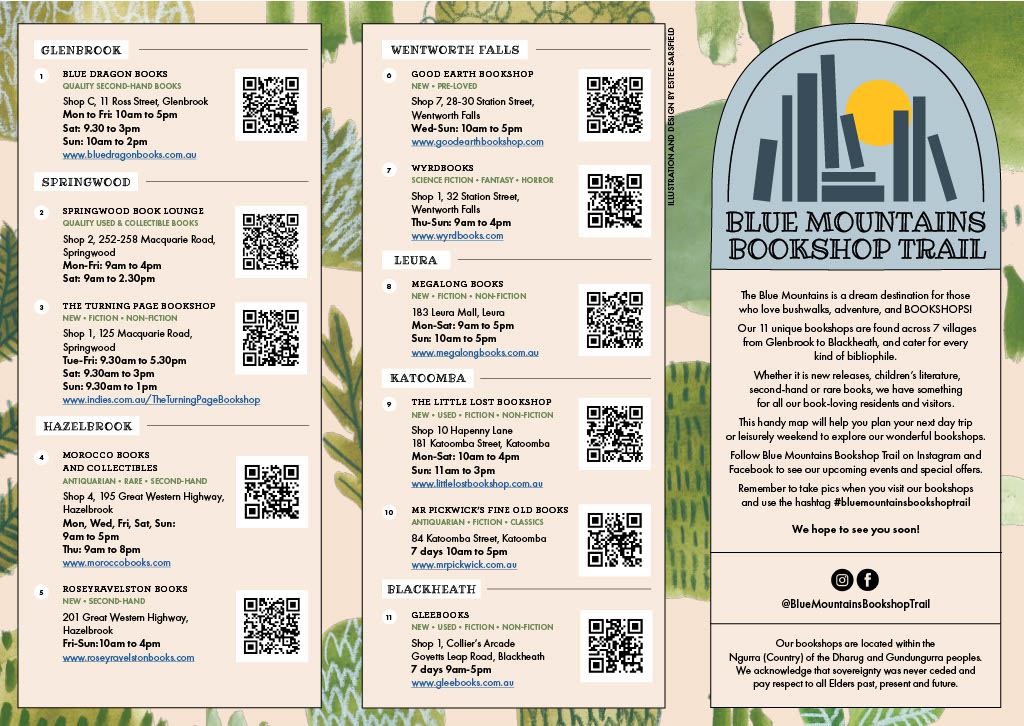 You may find the book you didn't know you were looking for, have an interesting chat, or walk away with a date and walnut cake recipe and a few exercise tips from the wall of lost bookmarks.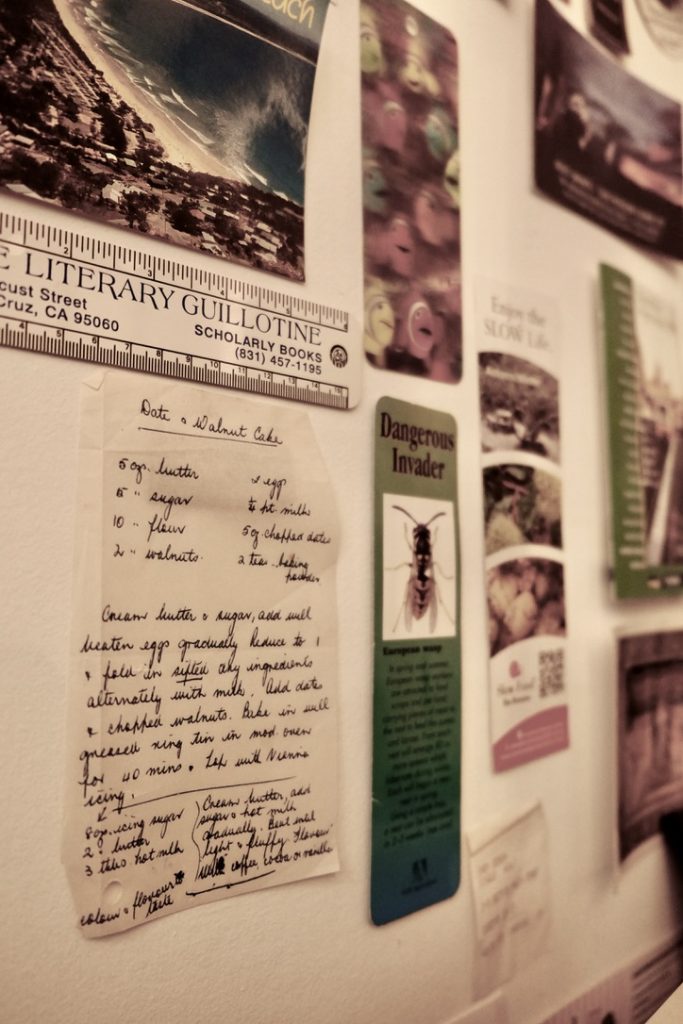 Recipe for Date and Walnut Cake (Belle Butler)
This story has been produced as part of a Bioregional Collaboration for Planetary Health and is supported by the Disaster Risk Reduction Fund (DRRF). The DRRF is jointly funded by the Australian and New South Wales governments.