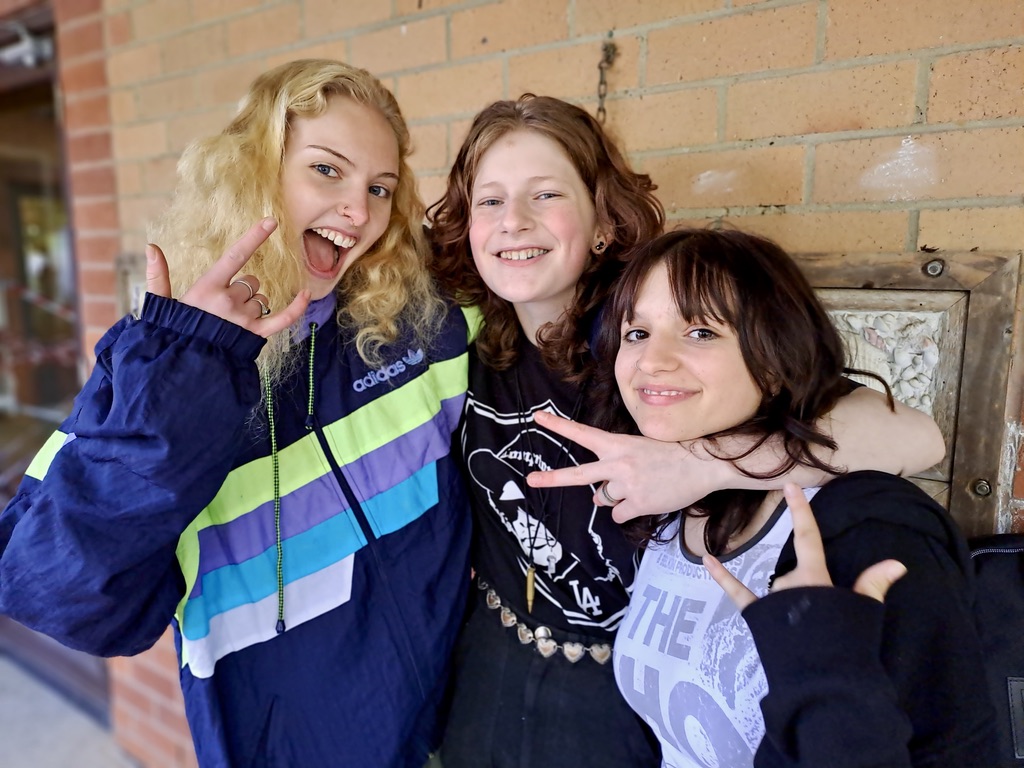 Pearl, Sal and Lily – members of runner-up band Menace
By Belle Butler
A 'Battle of the Bands' may conjure up fierce rivalries and competitive theatrics, but contestants and audiences at the 2023 MYST Youth Festival last month, were bound by mutual awe at the exceptional talent on display.
Bands were given twenty-minute slots to wow the audience with their best show. The audience's job was to decide the winner and runner-up. The calibre of musicianship and the confidence with which these bands performed was impressive. Talent paired with loud, lively performances created a mood of high energy excitement, not dissimilar to popcorn jumping over the lip of a pot. The mood was infectious, drawing in visitors from outside as well as bands that had already performed.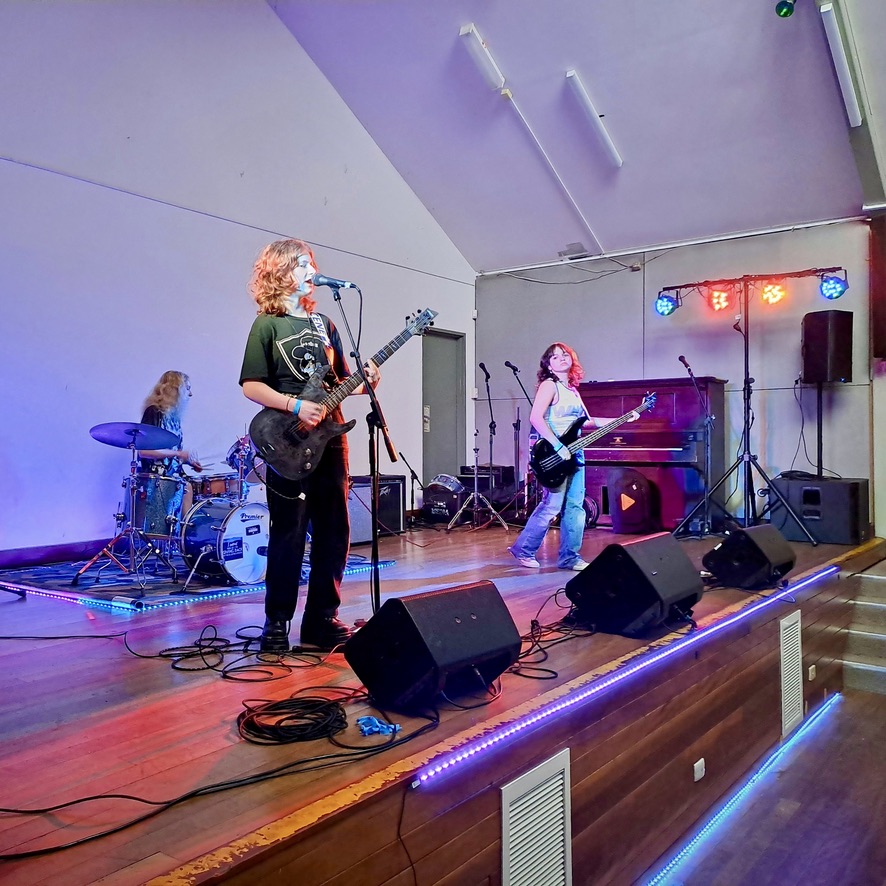 Runner-up band Menace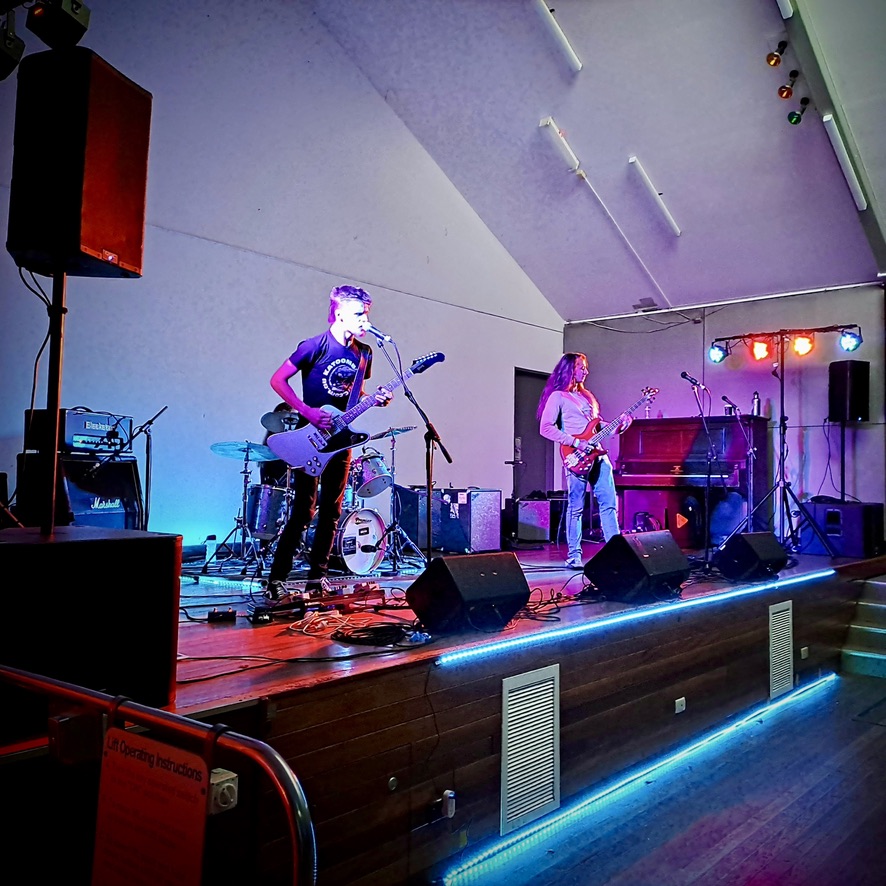 Winning band Tap Hammer
The 'Battle,' held at the Mid Mountains Neighbourhood Centre, was part of an annual Youth Festival event that MYST (Mountains Youth Services Team) hosts in different Blue Mountains locations each year. The event was serviced by free buses from Glenbrook to Blackheath in order to make it accessible and safe for young people to attend.
Youth Festival attendees at the Mid Mountains Neighbourhood Centre
"We wanted to inspire youth to be creative, to give them an opportunity to show their talent and skills, and to get recognised for that," said MYST Youth Work Manager, Paige Thurlow-Want. She pointed out that this was a rare opportunity, as most music venues and events are not youth-friendly. Reyhn, singer and guitarist of Tap Hammer, was appreciative: "Events like this bring bands together and create opportunities for future collaboration which is essential for a local music scene to thrive."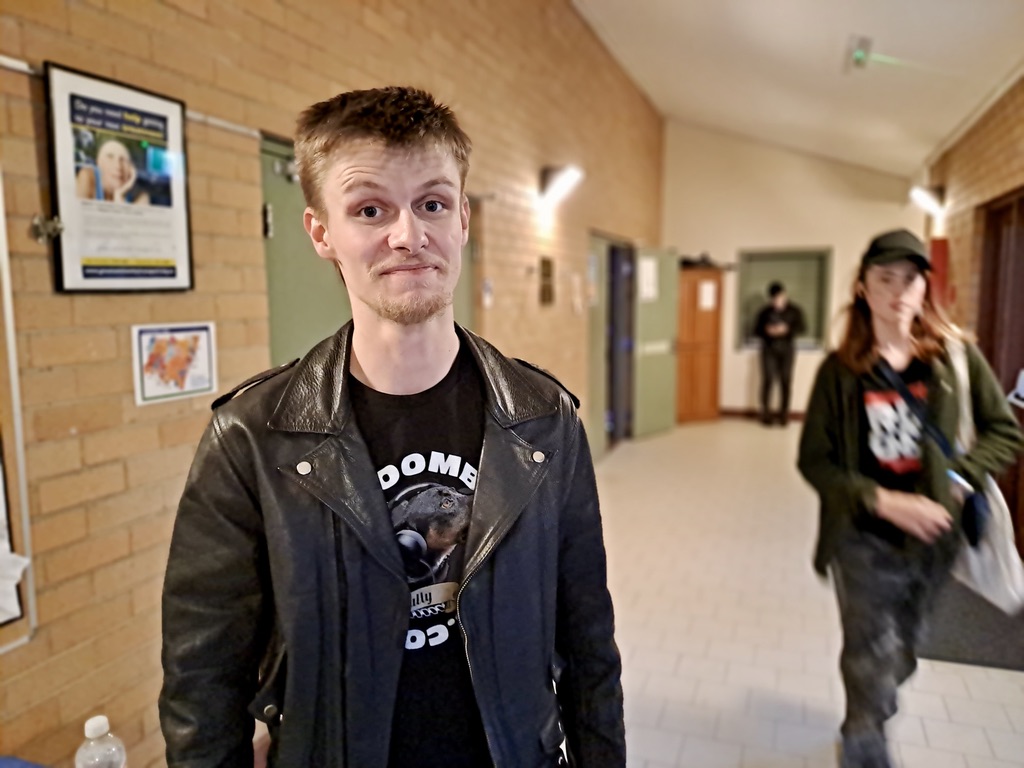 Reyhn – singer and guitarist from Tap Hammer
Pearl, drummer in the band Menace, echoed this sentiment and said that events like these were unique and needed. She felt that the 'Battle of the Bands' was an excellent publicity opportunity as well as a chance to meet new people. "It makes us feel like we have a community that we are growing in and getting better."
Community connectedness was a main objective of the event. MYST Fundraising and Marketing Manager, Gailene Keen acknowledged that the demand for MYST services had increased as a result of the disaster events over the last few years. "There were a lot of families reaching out to MYST through the recovery process of fires and floods," she said. "And particularly after COVID, young people just don't often know how to engage with and talk to one another. This event provides a chance for social connectedness by giving them something to do." She hoped the event, which also hosted an art competition and various youth service information stalls, would help young people understand that MYST is "open to everyone, for all levels of help and need."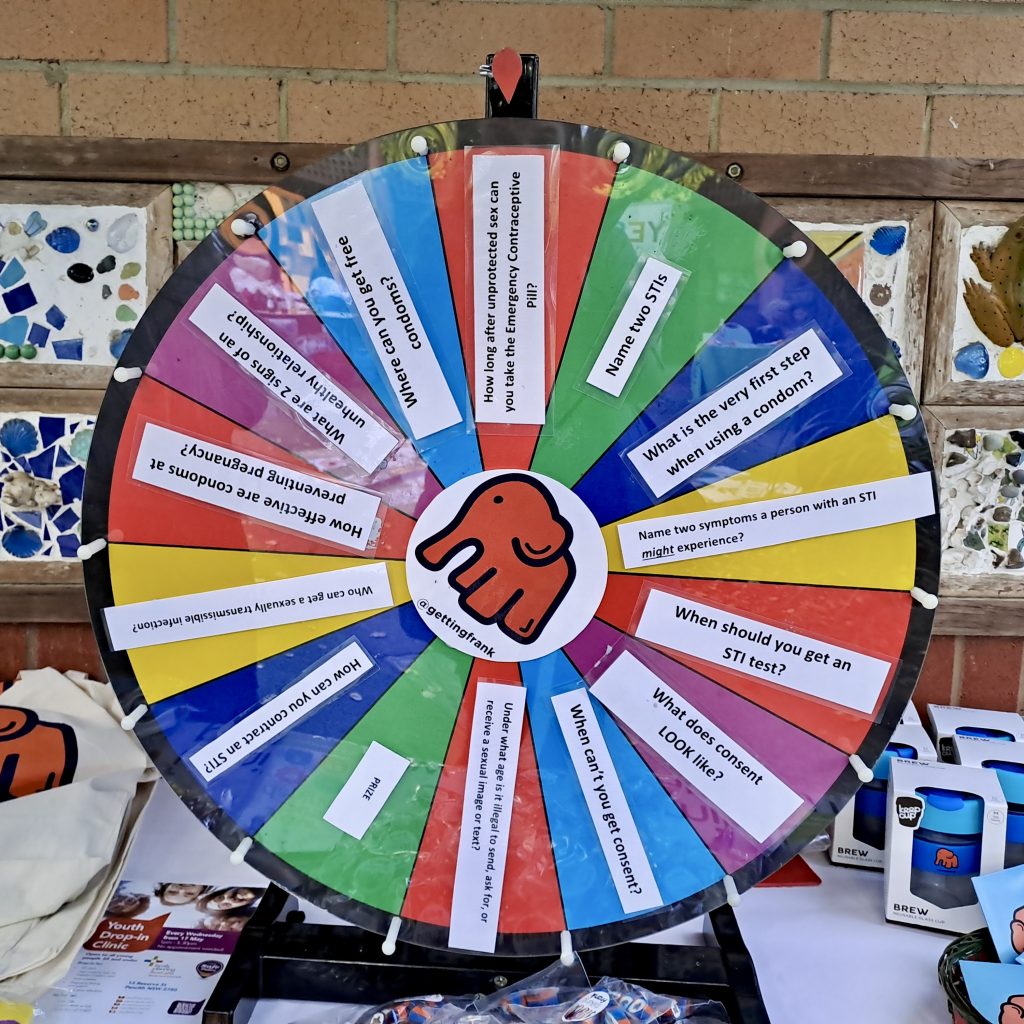 Sexual health wheel of fortune gave visitors a chance to talk about uncomfortable topics in a fun way
By focusing on connectivity and inclusion MYST fosters a resilient community that it hopes will be better prepared to deal with challenges in the future. It achieves this by providing an encompassing range of services from one-on-one case work to social events and school programs. "We aim to support the emotional and social wellbeing of youth in the Blue Mountains so they can thrive," said Gailene.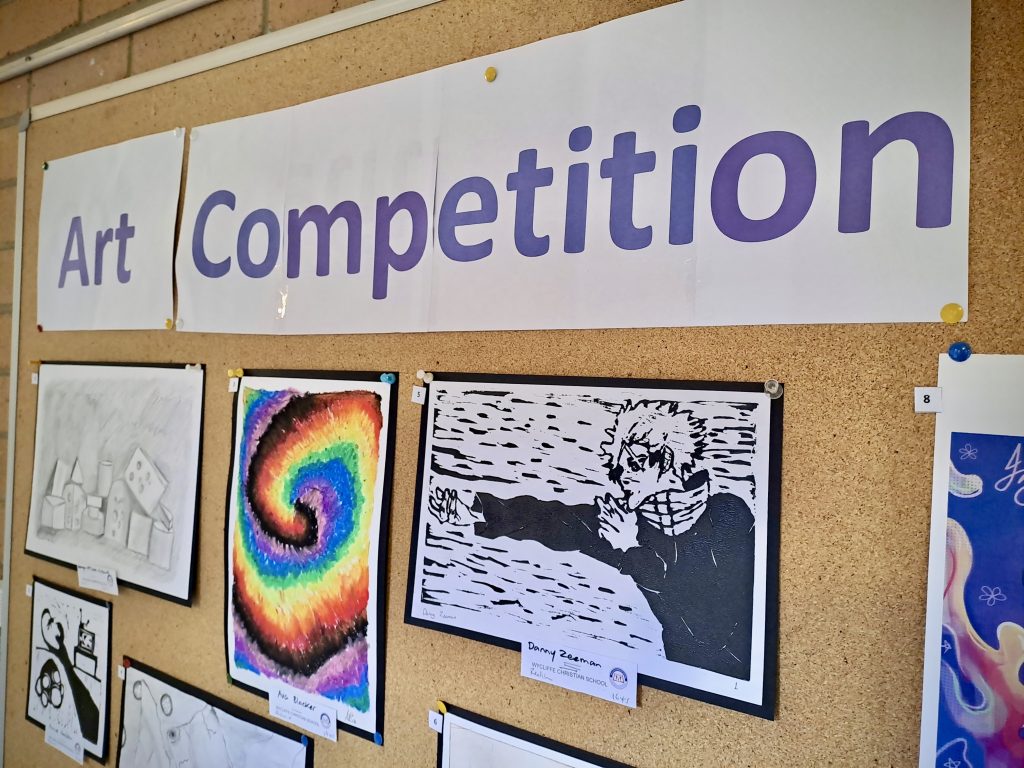 Youth Festival Art Competition
For young Blue Mountains musicians, MYST has even created a dedicated, sound-proofed rehearsal space that is free of charge. Utilised by nearly all of this year's 'Battle of the Bands' contestants, the benefit of this resource could not be overstated. Reyhn of Tap Hammer said "none of us have a big enough space at home to practice in. That rehearsal space for youth in the Blue Mountains is invaluable."
Helen, a keen audience member and mother of singer and guitarist Sal of Menace, agreed. "Music is so important to Sal," she said. "Both for connecting with other people and expressing their feelings through songs. Having the rehearsal space at MYST is really helpful."
The Bands! (supplied by MYST)
Despite the even spread of talent on stage at the 2023 'Battle of the Bands', ultimately, there had to be one winner. This year's top prize went to Tap Hammer, with Menace coming in a close second. Apart from accolades and exuberant applause, the winners received $500, and the runners-up received $250. "The prize money we won is a big deal for a new band like ours," said Reyhn. "It has given us the capacity to get some merch made up and put some cash towards recording, which is really exciting." As for the audience, they might have gone home a little harder of hearing but buoyed by the notion that it's a great time to be a young musician in the Blue Mountains.
Holly, Bec, Samuel and Peter of Acid Amora owning the stage.
Some ongoing services and upcoming events provided by MYST:
Sound-proofed rehearsal space – MYST Music Space – MYST
Planet Youth – Drug and alcohol prevention program – What is Planet Youth? – Planet Youth Blue Mountains. (planetyouthbm.net.au)
Drop in services Thursday at Springwood 2.30pm – 5.30pm and Friday at Katoomba 3pm – 7pm
Queer movie night – starting June 2nd – please call Flinn on 0493 445 255 for further details or follow MYST on Facebook for event details – (20+) Mountains Youth Services Team | Katoomba NSW | Facebook
This story has been produced as part of a Bioregional Collaboration for Planetary Health and is supported by the Disaster Risk Reduction Fund (DRRF). The DRRF is jointly funded by the Australian and New South Wales governments.