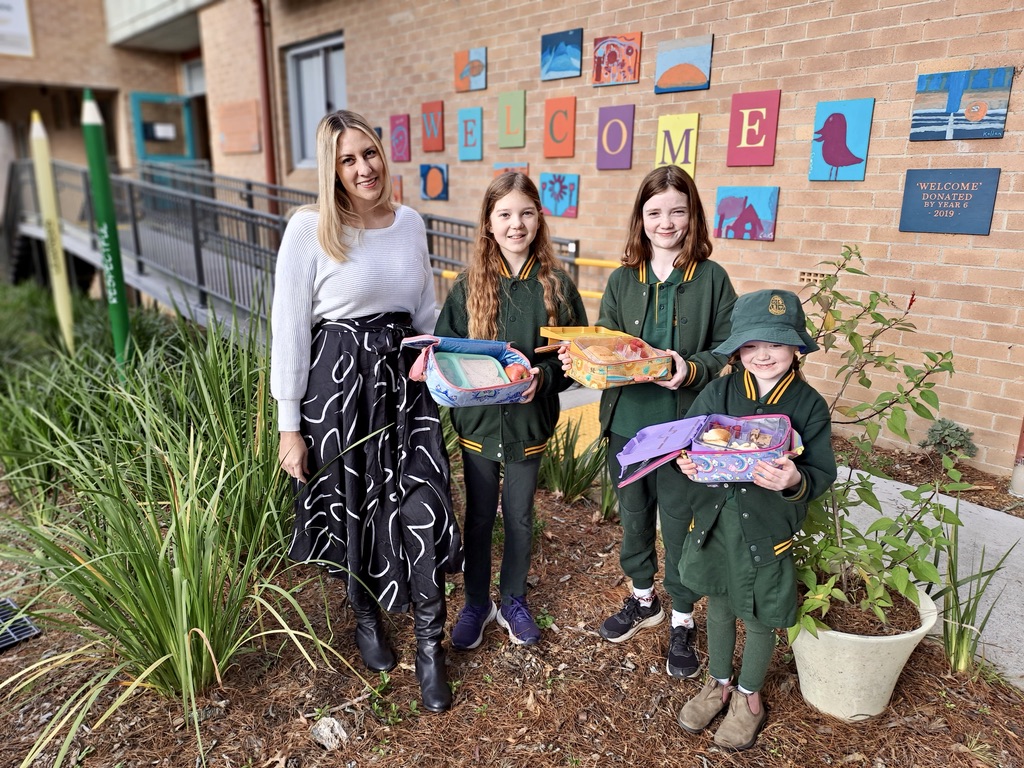 Relieving Principal Hayley Cross with Luella, Sadie and Dorrit showing off their nude food.
By Belle Butler
Belle Butler visited Lawson Public School during Nude Food Week – an annual event that encourages families to pack school lunches without single-use packaging. The event promotes minimising plastic waste and opting for healthy food choices.
Sitting in a cross-legged bundle, the kindy kids from Ms Jensen's 'purple' class at Lawson Public School raised their hands high into the air. Some of them squirmed and stretched to reach a fingertip above their neighbour's, so keen they were to answer the question posed by their relieving Principal, Hayley Cross: "What does Nude Food Week mean to you?"
"It means no wrappers," said Jessie, called upon first. "Because if you have wrappers you can't have a big ginormous fruit platter!" True. The logic was sound. There was a particular buzz at the prospect of winning the school competition: the classroom with the least amount of plastic in their lunchboxes would receive a 'big ginormous' fruit platter as a reward for their efforts. Mention of it brought about collective murmurs of anticipated fruit, watermelon rating high on the favourability charts.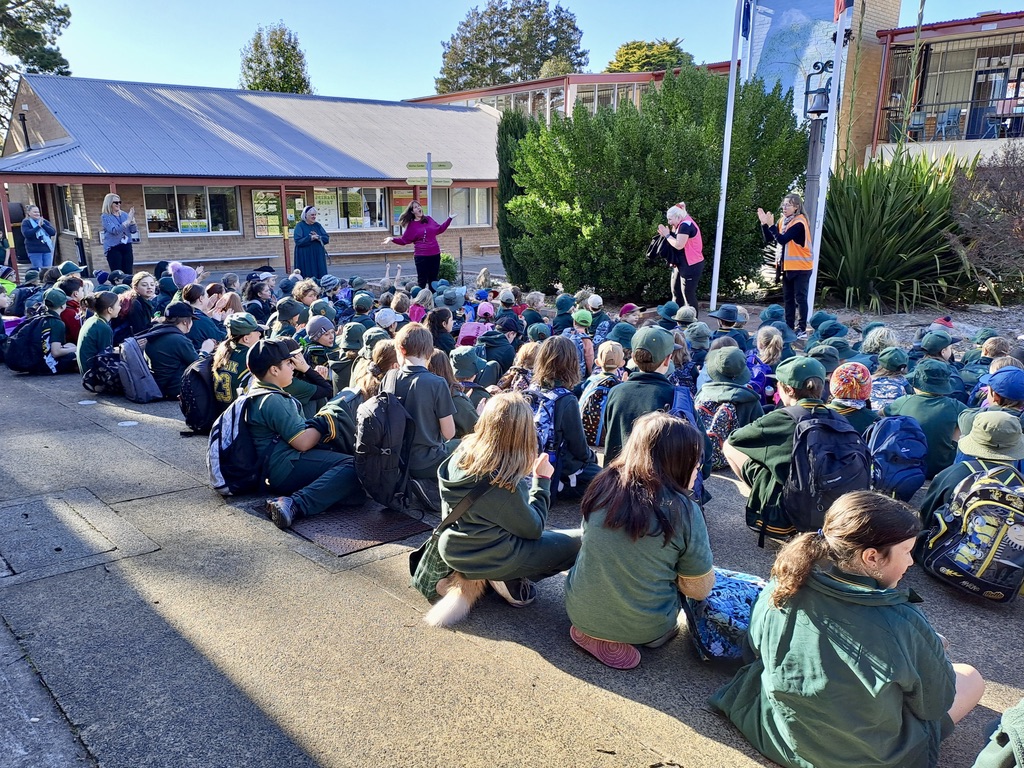 Whole of school attending the announcement of the winning class.
Fruit may have been an enticing reward, but it was clear that a deeper understanding was brewing. Dash, who tells me his life-goal is to solve the Great Pacific Garbage Patch, summed the problem up articulately: "If we have too much plastic it will go into landfill, then it will go into the ocean, then the fish will eat it and die." Jackson agreed, connecting learnings from multiple sources: "I know this from Octonauts," he said. "Because pelicans might die if they think plastic is a fish. And some of it might be sticky and stick their wings together so they can't fly."
Later, the year 5/6 students from Mr Smith's class were perhaps a little less enthusiastic about the interruption of a visitor, but no less forthcoming. "Nude Food Week is a way to say that plastic is bad for the environment and to take a break from using it," said Rhys. Taym added: "Eating food without packaging is better for the environment. We have lots of animals in the Blue Mountains and they might eat it, like magpies." Rose felt that growing and eating food straight out of the ground was a better option than buying it from the shops, because so much fresh produce is packaged in plastic, and Shane made the point that reducing packaging waste at school was an effective way to increase impact: "It's important to do it at the school because if we have 5 or 10 people doing it, it will make a bigger difference than just one person."
Winning class Stage 1 'Lime' ready to tuck in (supplied).
Winning class CC 'Blue' with their spoils (supplied).
Nude Food Week is just one environmentally-focussed initiative of many taking place at Lawson Public School. Over the last few years staff, students and parents have combined forces to build, plant and maintain multiple vegetable patches around the school. Students feed the soil with worm castings and compost from food scraps collected in classroom bins. Starting this year, they harvest the produce in a class rotation of weekly kitchen-garden outdoor lessons.
Kindy student Dash has big goals – to solve the Great Pacific Garbage Patch
During these lessons, students spend one day in the garden learning about plants, soil, worms and bugs. Then they spend the following day in the kitchen cooking up whatever they harvested, keeping outside inputs to a minimum. "We try to just use what we've got and tie it in with sustainability," said relieving Principal Hayley Cross. "It's also just such a great opportunity for them to engage in life skills." She noted that kids seem more focussed and behavioural problems cease during these lessons.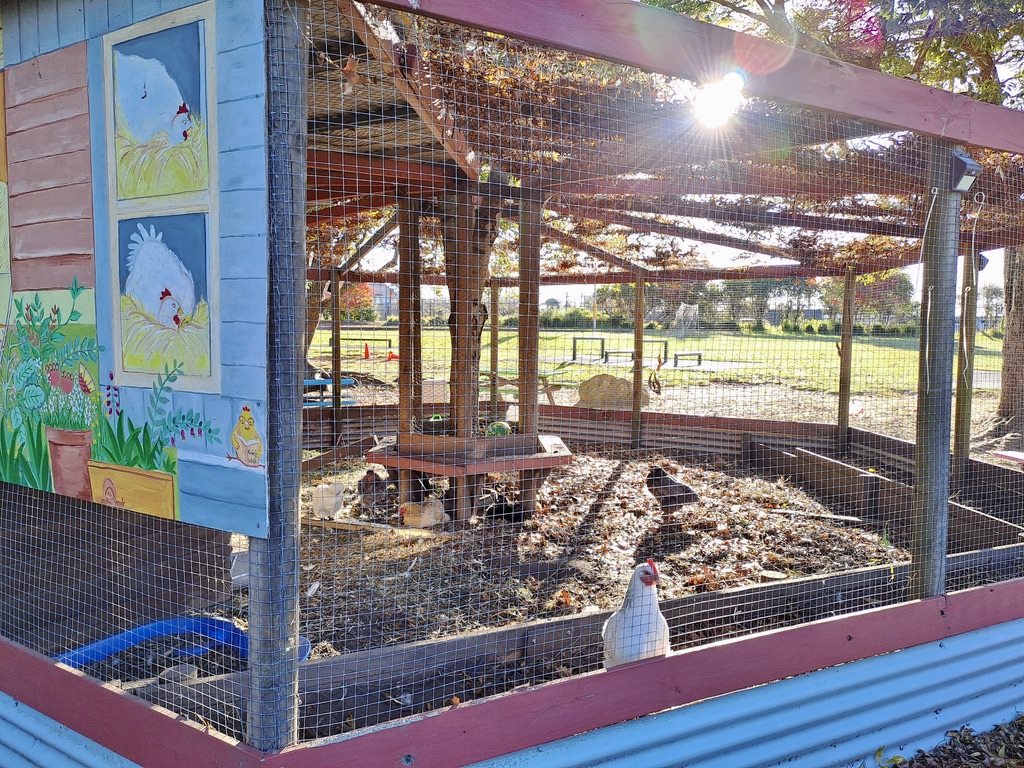 Deluxe chicken accommodation built by staff
The upper playground is home to some clucky companions who reside in a deluxe chicken coop built by staff. The chickens play a multifaceted role. They provide eggs during laying season and demonstrate another cycle of waste management to students: food scraps feed the chickens, chicken poo feeds the compost, compost feeds the soil, soil feeds the plants and plants feed humans. "It all goes back into the system," said Hayley. Like many animals, the chickens can be a circuit breaker for kids in heightened emotional states. Support Teacher Cheryl Griswold recalled her amazement at witnessing one student switch from throwing furniture around the room to gently holding a chicken, patting it and whispering in its ear: 'I love you'. "Here was a traumatised person who doesn't know how to express affection… expressing affection," she said.
Chickens provide more than just eggs. They help students to regulate their emotions and offer an opportunity for bonding.
To keep on top of waste and grounds management, each year the school appoints a 'Green Team' with two representatives from each class. These students become leaders in recycling and composting, and once a week they tend to the grounds by weeding or planting seedlings.
Nude Food Week extends on these practices. It provides a focussed lesson in adopting sustainable practices, while bolstering a growing culture of environmental awareness. "We try to encourage the students and families to think about what they put in their lunch boxes, to reduce the waste they use and to be conscious about soft plastics, for example. Then to integrate that understanding in their every day," said librarian Marion Schlegel. "Nude food week is a way of starting a conversation at home with their families, and here in school too."
Librarian Marion Schlegel is focussing on 'sustainability' during library lessons all term. "Sixty percent of landfill is food waste. If we can reduce that, simply by having compost bins and worm farms, then that makes a big difference, which then has a local, national, global impact." -Marion
"The other thing is, it promotes healthy eating because it requires packing something that doesn't need a wrapper, like fruit or vegetable," said Hayley. "And hopefully families will see that it's easier than they might have thought."
"You don't want to guilt people. It's just starting the awareness," added Cheryl, who, it would be fair to say, holds the title of 'waste warrior' at the school. A few years ago, when Cheryl noticed that soft plastic wrappers constituted most of the waste filling up school bins, she took it upon herself to institute a waste management intervention. Drawing inspiration from the old vomit bag model, she created 'snack-wrapper-catchers' out of yoghurt tub lids and bread bags. She drilled holes in all the playground bins, attached the new recycling vessels and stood by to re-educate kids about where to put soft plastics. Cheryl has been collecting the soft plastics and delivering them to recycling collection centres ever since.
More recently, her successes prompted the school to apply for a Department of Education Sustainable Schools grant. They have used the resulting funds to upgrade the whole school waste management system. Colour-coded tubs have been installed in each classroom and sorting stations have been placed around the grounds.
Nash showing off the new waste sorting stations. "Well if we want to save our whole entire planet, we need to start acting." – Nash
As part of the grant, the school is required to engage with the community. Monthly Magpie Markets have provided an excellent opportunity for this. "Magpie Markets puts more waste in our dumpster in one day than we do in a month," said Marion. Staff and volunteers are now setting up proper recycling stations at the Markets and attending on the day to educate visitors about where to put their waste.
Cheryl has also been collecting hundreds of compostable plates from general waste bins during the Markets. She single-handedly washes and soaks them, brings them back to school and provides the kids with a lesson on how to make paper. Some of the students created Mother's Day cards out of their handmade paper this year.
Cheryl helping students make paper out of compostable plates collected from Magpie Markets.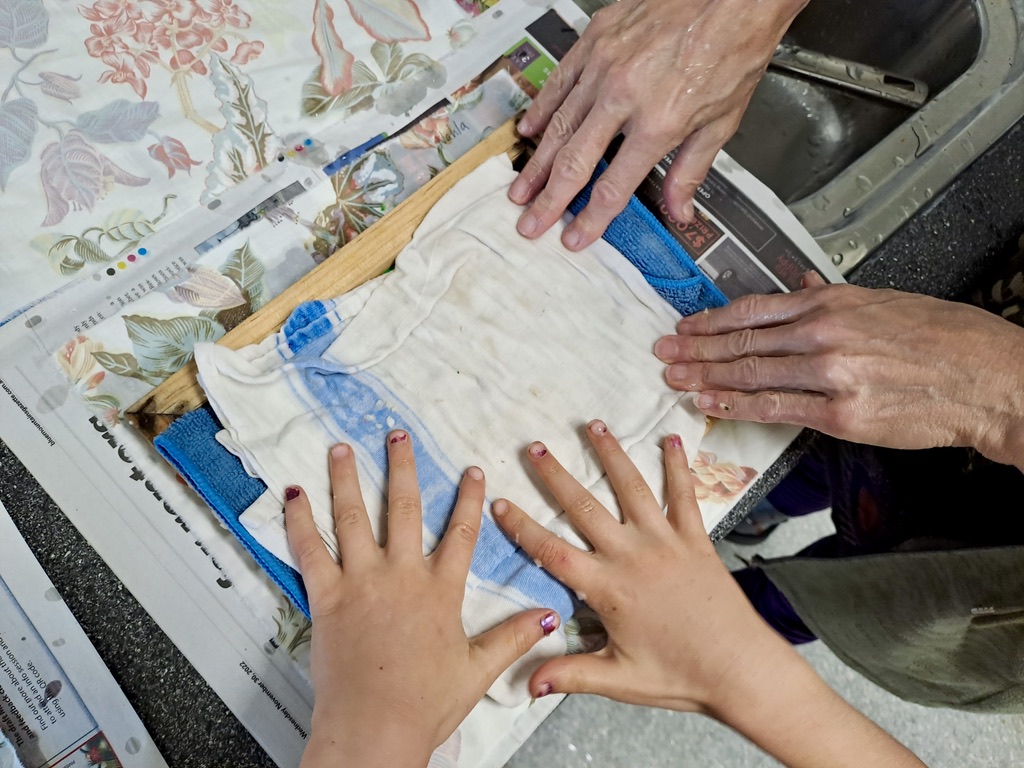 Pressing the wet paper into the mould.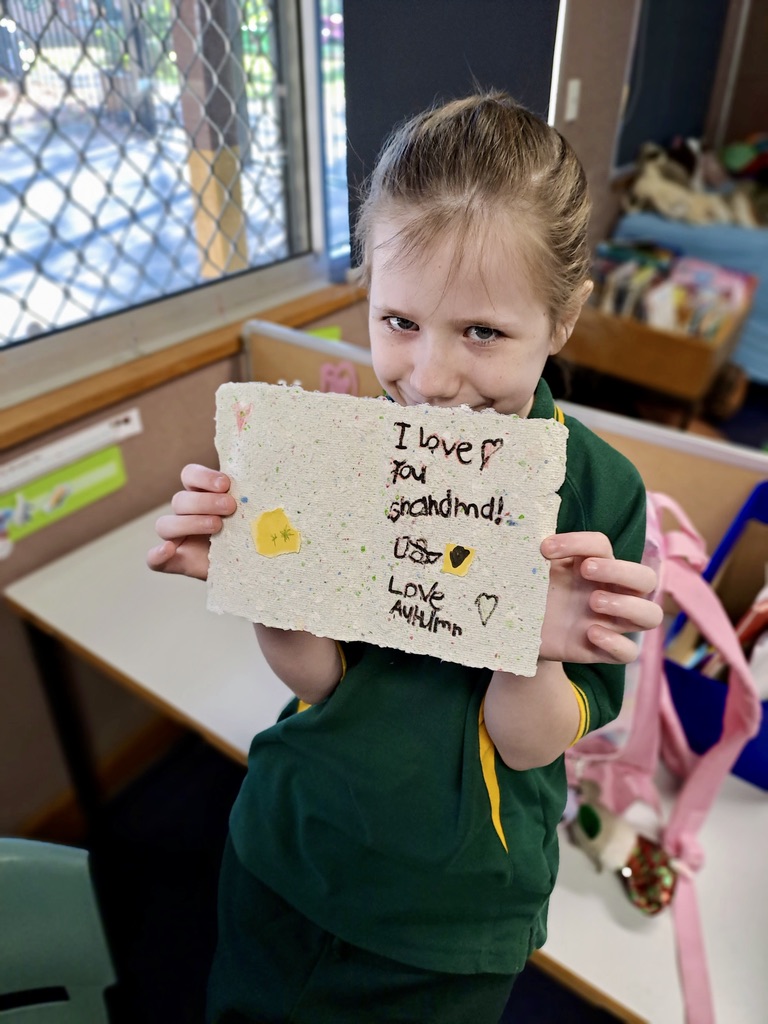 Autumn with her Mother's Day card made out of handmade paper from compostable plates.
In a more holistic approach to education, these initiatives build an interconnected web of learning, which extends beyond Lawson Public School's boundaries. Cheryl, Marion and staff from other Blue Mountains schools have joined forces in a Facebook and WhatsApp group called Blue Mountains Sustainable Schools, in which half a dozen representatives share their knowledge. They visit each other's school grounds once a term to get ideas about sustainable practices. "It's about creating a generation with awareness," said Marion. "Because we're going to be gone, and then the next generation will have to take over, and hopefully they can do it better than we have."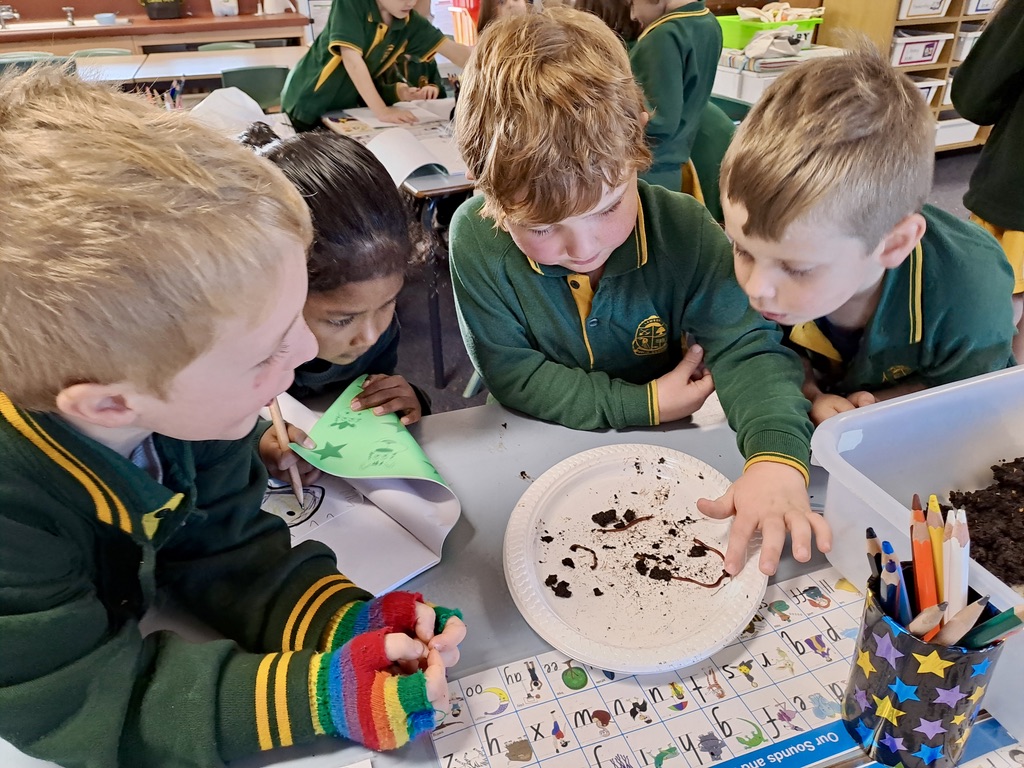 Close inspection of worms during library class.
Marion returning worms to the worm farm after bringing them into the classroom for a lesson.
At school, adults have responsibility to pass on knowledge. At Lawson Public School it is clear that staff and volunteers take this beyond the limits of curriculum. Their commitment to forming a culture of positive change demonstrates that they care, that they can act, and that together they can find solutions to big problems. "How do you make a big change? You reach the children. And where are the children? School," said Cheryl. "You can't get into every family … but you can inspire children."
"Education is the passport to the future, for tomorrow belongs to those who prepare for it today." -Malcom X
This story has been produced as part of a Bioregional Collaboration for Planetary Health and is supported by the Disaster Risk Reduction Fund (DRRF). The DRRF is jointly funded by the Australian and New South Wales governments.